Dynamic Civil Solutions (DCS) is a professional engineering firm that specializes in providing multi-disciplined consulting engineering services in a professional, timely and courteous manner to a wide variety of clients. We support public and private sector clients in a diverse range of markets, at every stage, from initial concept to project completion and beyond. Our functional areas include Civil Site, Transportation, Traffic, Surveying and Data Collection. Our experienced and qualified staff work together to solve difficult problems with well- designed, coordinated, cost effective solutions which consider environmental concerns, longevity and constructibility. DCS is certified by multiple agencies as a qualified Disadvantaged/Minority Business Enterprise (DBE/MBE).
Dynamic Civil Solutions' success is due not only to our ability to complete jobs on time, within budget and as specified, but also because we can provide a small business responsiveness to client needs. Our goal remains to uphold an outstanding record of achieving a well designed project that meets budget and deadlines.
Exceeding our clients' expectations is our top priority and hence we establish relationships that go beyond the realm of the project at hand, our involvement in the community, and the variety of services we provide. Client relationships demonstrate the fundamental foundation of our company — to collaborate with clients to achieve the highest innovative quality project on time and within budget. We are in business because we enjoy what we do. Growth, land use, traffic, and other environmental concerns, coupled with increased demand on infrastructure, pose serious challenges. Dynamic Civil Solutions remains at the forefront of solving these problems with innovative and sustainable solutions.
Bolaji Kukoyi, President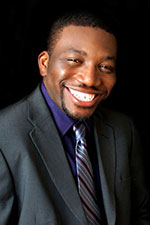 Bolaji has received multiple degrees from the University of Alabama at Birmingham (UAB): a Bachelor of Science in Civil Engineering, a Bachelor of Science in Mathematics and a Master of Science in Mathematics. As a licensed professional in multiple states, Bolaji possesses extensive experience on many civil site, roadway and transportation projects. He is adept in the development of civil and transportation construction plans having worked with sundry agencies and has successfully managed multi- million dollar programs with portfolios in excess of $70 million.
One client describes Bolaji as one who "has a dynamic and engaging personality and is a pleasure to work with because he does a first-class job." Bolaji was an inaugural inductee into the UAB Excellence in Business Top 25 class of 2013 and has also served as a panelist for the National Science Foundation Academic Research Infrastructure Program, a program designed to support 21st century research and research training infrastructure in our Nation's academic institutions and non-profit research organizations.
Bolaji's innovative engineering abilities have always been a valuable tool in ensuring that all projects under his supervision are completed on time, within budget, and as specified.